---
It is no secret to anyone that Colorado has seen a major change in the population growth over the course of the 5 years. From 2010  till 2016 population increased by 9.7%. 
All of that growth has not passed by state's capital: Denver. Population growth brought in job market growth and overall growth of the city. There are, perhaps, more construction projects in the Greater Denver Area than in the entire state combined. Looking over Denver Infill website we can easily track number of projects currently undergoing and really get a picture of how much city has changed and is still changing.
Statistics:
$800 million in projects under construction in the area
Nearly 4,000 residential units planned or under construction
Nearly 2.4 million square feet of office space planned or under construction
Moreover, recent addition of 2 brand new lines of light rail has eased urban transportation and has really become a selling point for those living in the suburban areas of Denver.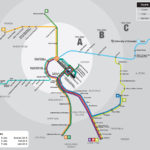 Travelling from Denver Airport, which also went through major remodel, has never been easier with line A running straight to Union Station and taking just a little over 25 minutes. RTD has really helped to improve Denver's area and has even more plans in the works.
Why do people like Denver so much?
Fantastic urban scene, proximity of Rocky Mountains and several ski resorts, tremendous climate with cold winters and hot summers, and multitude of attractions. Denver really has everything you can ever dream about and we can not agree more.
Platt Rogers is proud to have contributed to growth of the city across multiple projects and collaboration with local companies.
Pages: